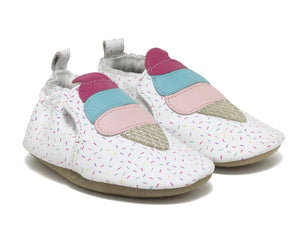 Whether your baby is stationary or just learning to walk, the Sweet Treat Soft Soles in White will keep up with every daily adventure. The white design of these ice cream shoes for toddlers features a rainbow sprinkles pattern, along with an ice cream cone applique on the top of the foot and multi-colored cone embroidered on the sole. Designed with premium leather and soft suede, these toddler summer shoes are both durable and oh-so comfortable.
·       Approved by the American Podiatric Medical Association.
·       Sizing is roomy to fit different feet and provides extra space for feet to grow—perfect for infants, babies, pre-walkers & toddlers.
·       Robeez Soft Soles feature a suede sole that flexes and bends with every step to allow full range of motion needed for healthy foot development.
·       With an easy-on, kick-proof, cinched elastic ankle, these soft-soled toddler summer shoes stay on all day long without constricting baby feet.
·       A slip-resistant sole grips the floor, keeps kids on their toes & helps prevent falls.